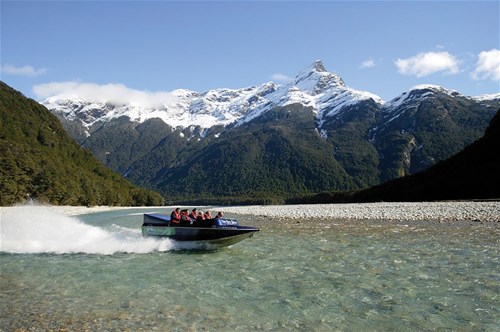 Dart River jet safaris in the environs of Queenstown is an exhilarating and unforgettable experience that will linger in your memory long after your trip to Queenstown is over. The safaris combine everything that makes New Zealand a fantastic holiday destination; exciting jet boating in the wilderness, awe-inspiring scenery, exploration of the Maori heritage and the all-encompassing spirit of adventure. The safari will take the participant into the untouched depths of Mt. Aspiring National Park and the lovely Dart River valley.
Excursions will take the traveller from the vicinity of Queenstown to the frontier town of Glenorchy and the wilderness beyond. The visitor will have the opportunity to traverse areas of pristine wilds which cannot be reached in any other way. The fascinating nature of the reaches of the exquisite landscapes of New Zealand will mesmerize the traveller. The picturesque and distinctive countryside is rich in cultural and natural treasures and is steeped in the legends of the native Maori.
The journey will take the sightseer on the route taken by the first residents of this magical land, the pioneering Maori who first laid eyes on this ruggedly picturesque land. These early inhabitants found food and shelter here and discovered the all-important greenstone ('pounamu') which was used to make weapons, tools and jewellery; this substance has now become an icon of New Zealand.
The status of Mt. Aspiring National Park as a national treasure has been confirmed by its designation by UNESCO as a World Heritage Site. The park is considered to date back to around 80 million years and contains some of the world's most distinctive native forests and glaciated landforms.
The Wilderness Safari will thrill the traveller with a combination of jet boating in the secluded wilderness, a drive through tranquil trails in a 4WD vehicle and a serene guided walk through ancient forests. There is also the option of the Funyak Safari where the visitor will be able to travel in the one of a kind inflatable canoes known as 'Funyaks'.
When selecting Queenstown accommodation an obvious choice is the Copthorne Hotel & Resort Queenstown Lakefront. This fine hotel is one of the convenient Queenstown ski resorts offering comfortable rooms and friendly service.