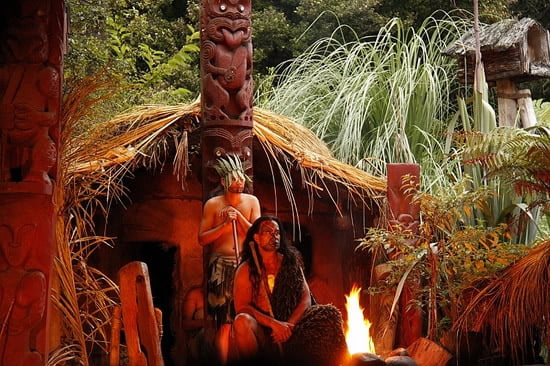 Located in a remote corner of the Pacific Ocean, New Zealand was one of the last islands to be discovered. During its seclusion the country developed into a paradise, full of beautiful green plants and strange exotic animals. While it may have undergone some changes since the arrival of humans, the country remains a veritable haven, still conjuring images of lush verdant forests, hills covered in mist, and sparkling lakes. The Polynesians were the first to arrive, somewhere between 1250-1300 CE. The first Europeans arrived only in 1642 CE. By then the Polynesians had already settled in and developed a distinct culture that, despite modernisation, endures to this day.
Imagine New Zealand if the Europeans had never arrived, it would look an awful lot like the Haka Pa Maori Village Waterfall Park. The charming village is enclosed in a valley, close to a gushing 130 metre tall waterfall. Visitors are greeted by a scary warrior's challenge, and are then treated to a dazzling display of traditional music and skills. The entire experience is topped off by an exquisite feast prepared in a traditional hangi oven. The Haka Pa Maori Village is situated a mere fifteen minutes from Queenstown centre.
There are buses that ferry visitors between the village and the city. Those who enjoy the experience can also visit Kiwi Haka. Fringed by mountains, Queenstown is a buzzing little town situated by the shores of Lake Wakatipu. The town is known for its activities as much as its gorgeous scenery. Queenstown is definitely one of the more popular tourist spots within the country, especially between June and October which is ski season.
The best way to explore the city centre is by foot or by cycle, which is the preferred option for family travel Queenstown. Public transport is a bit limited here. From simple inns to luxury hotels, there are a lot of options when it comes to Queenstown hotel accommodation. Tourists looking for a family hotel Queenstown with a central location can try the Copthorne Hotel & Resort Queenstown Lakefront. Situated by the beautiful Lake Wakatipu, the hotel is only twenty minutes from the Coronet Ski Area.