The Bason Botanic Gardens in Wanganui has been recognized as a 'Garden of Significance' by New Zealand's Garden Trust and once you visit this place you will understand exactly what that means. There are six different themed areas in the garden including a much sought after collection of orchids.
Historically the place was built in the late 60's. The gardens were formerly owned by the Bason brothers, Stanley and Blanche. It was originally a farm that was transformed into public gardens by the city council. What is spectacular about the site is the architecture within the area. The materials from two demolished picture theatres in Wanganui were used to build most of the structures.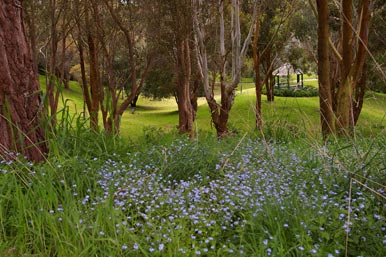 The gardens have been separated according to the different types of flora in the area. Within the 25 hectares of land there are blocked out divisions namely the Dress Circle, Conifer Arboretum, Native Bush and Wetlands, Millennium Hill, Lakeside Flats and the Woodlands. The landscaped area is like a picture postcard, it looks unreal simply because it is so beautifully maintained and managed by the City Council. This would be the best place for visitors looking to capture a stunning picture. There are daffodils, magnolias, camellias, roses and Norfolk Island pines in abundance. You will also find a wonderful variety of tropical plants and trees.
Naturally the best time to visit the gardens is during spring, but even during the other seasons the view is spectacular since it is located in a somewhat frost-free environment. The lakeside area definitely provides one of the best views of New Zealand nature. The birds, animals and the flowers make you feel like you are in the middle of the Garden of Eden surrounded by the wonders of nature.
New Zealand is popular for the beautiful countryside and the relaxing atmosphere. So if you are thinking of travelling to this part of the world you should look for New Zealand hotels that are comfortable and offer great service. Especially when searching for Wanganui hotels search for a location that will revitalize your spirits. Millennium & Copthorne Hotels NZ offers a range of properties across the country which helps fulfil your every need and desire and make sure you feel at ease.
Chandrishan Williams is a travel writer who writes under the pen name, Caleb Falcon. He specializes in writing content based on the many exciting world adventures that await intrepid travellers. Google+